Below is information in relation to Curriculum at Rivers:
Mathematics
KS3
At Rivers we offer a varied and challenging programme of study: developing fluency, mathematical reasoning and problem solving.
We aim to
be supportive and encourage independent learning
encourage students to take pride in their progress in mathematical understanding
match curriculum objectives to each student
collaborate with stakeholder schools when indicated
KS4
Maths studies at Rivers ESC KS4
All students undertake a baseline assessment upon enrolment to ascertain their current working grade. This will help identify any gaps between what a student has actually mastered and what is expected at their particular grade level, thus supporting future planning and learning. We understand that competence in using arithmetical and mathematical processes plays an important part in giving young people confidence to play a full and effective part in society. The mathematic department's vision values and aims are parallel to those of the whole school.
Visions and aims:
• to encourage independent learning through scaffolding and support
• to develop essential numeracy skills, including arithmetical skills which allow our young people to participate fully in society
• encourage students to take pride in their progress in mathematical understanding
• to collaborate with stakeholders and encourage positive relationships with parents/carers
Examinations undertaken throughout Yr 10 and Yr 11:
• EDEXCEL GCSE GRADE (1-9) NO COURSEWORK - 3 EXAMS
• PEARSONS FUNCTIONAL SKILLS LEVEL I & II. NO COURSEWORK - 1 CALCULATOR/1 NON-CALCULATOR EXAM
KS4 Mathematics Yearly Overview
English
• An experienced team, we equip students with the skills, knowledge and resilience needed to read fluently and write accurately.
• We closely mirror the content taught in mainstream schools (please see roadmap below) in order to promote students' confidence and readiness for their reintegration to mainstream. Our curriculum map and high expectations fully prepare students for the demands of the GCSE curriculum.
• Students attend regular timetabled literacy lessons, in which they work on their key skills using a range of engaging resources and the online learning platform Bedrock.
• We motivate students to persist with challenging writing tasks and build their writing stamina, helping them to become independent writers.
• We insist on - and support students with - accurate spelling, punctuation and grammar, preparing them for the demands of the exam courses and the first impression it will create in future employment.
• Students are encouraged to speak in a clear and academic style, sharing their views on texts and respectfully challenging other opinions.
ChatGPT in English Lessons
We have been experimenting with using ChatGPT (an artificial intelligence chatbot) in English and it has been a great educational tool!
Most memorably, we asked it to explain the difference between simile and metaphor in rap form and write a poem about the benefits of an educational centre like ours. This was the result!
Write a poem about the benefits of a PRU.
A PRU, a place of refuge,
A sanctuary for the mind,
Where troubles and stress
Are left far behind.
A place to heal,
To learn and grow,
To find a new path,
To a future that glows.
With support and guidance,
And a caring team,
A PRU helps us find
Our truest selves, it seems.
It's a safe space,
Where we can be free,
To be ourselves,
And to just be.
So let us give thanks
For the PRU,
For the help it provides,
And the hope it renews
Poetry at Key Stage 3
During our recent poetry unit, students developed their understanding of poetic devices
and gained confidence using these in their own work. We also experimented with Slam Poetry – poems that are written to be performed and focus on the flow of thought and powerful emotions.
The following poem from a Year 8 student was so impressive, we entered it into a
competition.
Watch this space for the result!
Mrs Gilbert
Poetry Slam!
A poem written to be performed aloud and give the audience a message.
Written by a Year 8 Student after Being Excluded from Mainstream School…
Title: The School System Sucks
Talking to my Head of Key Stage, looking at me with disgust. Talking to my Head of Year, she would look at me like she wants to discuss. I huffed as I run out the door, head for the downstairs floor, I swore and I swore 'til I got to the gate – I head outside, run to the estate.
So, if you're asking me what is good about school? The smart-on-paperteachers are just tools, make us feel like fools. The fire for lighting fires being misused for cigarettes and flames, it's really such a shame, this game.
If you're asking what is good about school, I can tell you, myself and others that the break-time spent with your mate in the playground talking, running around and playing football is so much fun. And certain subjects, like P.E., where everyone can express themselves in something they love to do. So, let's review on the time at school and accept that it was not that good – but don't be misunderstood – there was some good.
English studies at Rivers ESC KS4 compromises of:
❖ AQA GCSE English language
❖ EDEXCEL GCSE English literature
❖ AQA GCSE Spoken language endorsement
❖ Pearson Functional skills English – Level one and two
Course Specifications
❖ AQA GCSE (9 -1) English language: Linear course - No coursework – two exams
❖ Speaking and Listening: No longer a percentage of the qualification for the GCSE Language, this is recorded and certified separately – Pass, Merit or Distinction
Science
KS3
Science lessons inspire and engage pupils in their learning to use keywords and explain their ideas. Pupils are taught how to plan their own investigations and analyse data. Lessons will give pupils an understanding of what they need to know by the end of KS3. The KS3 curriculum covers areas of Biology and Chemistry. Investigations and projects cover subjects such as The Earth and our Universe and Human Biology
KS4 - Biology
The AQA Biology GCSE curriculum aims to develop, maintain and stimulate learners' curiosity, interest and enjoyment of biology.
We study living things and how they react with each other and their environment.
The course is broken up into seven areas:
Cell Biology
Organ Systems
Infection and Response
Bioenergetics
Homeostasis and Response
Inheritance, Variation and Evolution
Ecology
The course covers many of the recent advances and issues in science such as genetically modified foods, cloning , IVF treatment , drug testing and immunotherapy for cancer.
Students experience the subject as a mix of theory and practical work. The course includes 10 required practicals.
We hope that students begin to develop an understanding of biology in its widest context and to appreciate how it relates to them outside the classroom.
The GCSE exam comprises of two papers; each 1 hour and 45 minutes long.
Cambridge Nationals Creative iMedia – Level 1/2
KS4
Creative and Digital Media plays an important part in many areas of our everyday lives and is an important part of the UK economy. There is a demand from employers for an increasingly skilled and technically literate workforce as more and more media products digitally. Creative iMedia provides pupils with specific and transferable skills and a solid foundation in understanding and applying this subject, whether it is in employment or higher education.
In this course, pupils will be working towards the completion of four units of work.
The first unit is Pre-Production Skills (Unit R081). This is a mandatory paper based exam.
The second unit is creating a Digital Graphic (Unit R082). This is a mandatory coursework based unit.
The third unit is creating an Interactive Product (Unit R087). This is an optional coursework based unit.
The fourth unit is creating a Webpage (Unit R085). This unit is an optional coursework based unit.
Art
KS3
Throughout this academic year pupils will be given the chance to experience an array of different media enhance their artistic skills and creative imagination.
Natural forms, Marine Life, Abstract Art, Still Life, 3D Design and Portraiture. Students will be introduced to a wide variety of traditional and contemporary Artists to inspire and inform their own Art work. Textiles is also now offered as part of the Art and Design course at KS3, where students learn a wide variety of printing methods, such as block and relief printing, mono printing, stenciling and embellishment. Students are also introduced to using the sewing machines and techniques such as free machining and applique, and have this year contributed to a community project, creating a hanging to commemorate poppy day.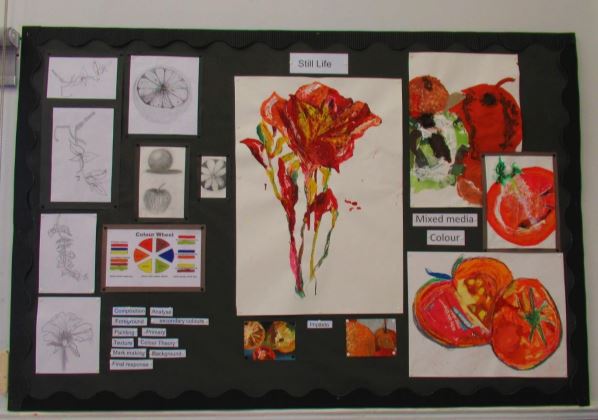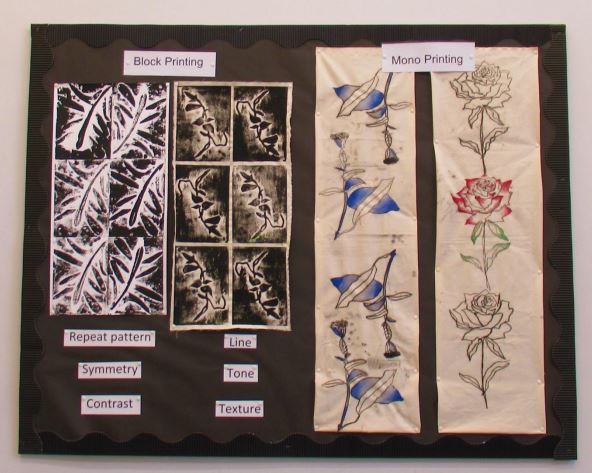 KS4
"Every Child is an artist. The problem is how to remain an artist once we grow up" -Pablo Picasso
The Aims of Art Education
To produce creative work, exploring ideas and recording experiences.
To become proficient in drawing, painting, sculpture and other art, craft and design techniques.
To evaluate and analyse creative works using the language of art, craft and design.
To know about great artists, craft makers and designers, and understand the historical and cultural development of their art forms.
Curriculum Intent
The intent for our Art Craft and Design curriculum clearly sits within the holistic vision of the school. "At Rivers, we believe that we are here to grow in confidence and show pupils from all backgrounds that art is accessible to all . At Rivers, we believe we are here to develop our natural-given talents". It is our belief that all students have an entitlement to a creative experience that fully contributes to the well-rounded individual, and in so doing we can enhance aspiration, work within a shared climate of endeavour and a willingness to strive
At KS4 we aim to further develop those skills and work with students in a climate of growing independence. Best practice offers a bespoke and adaptable curriculum for the individual that is co-crafted and co-owned by staff and students. The creative journey to this point clearly equips the individual to look beyond the immediate, and naturally consider their next steps into a possible further education in a creative industry/environment.
GCSE ART - Pupil Study Support Area
Possible Starting Points/Themes

Pintrest Link
Tate Link
Artnet Link
National Portrait Gallery

Jenny Leo - Art Lead
jennifer.leo@riversesc.herts.sch.uk
Food Technology
KS3
Throughout this academic year pupils will look at various areas of food nutrition, healthy eating, hygiene (both personal and environmental), malnutrition and the impact of a poor diet. They will also have the opportunity to produce various savouries and sweet dishes and enhance their current cookery skills such as baking, grilling, frying, boiling, simmering as well as preparatory skills including slicing, grating, chopping and peeling.
They will also partake in a visit to a local Bakery as part of their Carbohydrates module, to see how bread is made and have the opportunity to make their own.
BTEC Home Cooking Skills 1 and 2
KS4
This course is hugely inspiring for learners of all cooking abilities. For some pupils it may be the start of a career in catering. It will help them learn basic skills and recipes that will stand them in good stead throughout their lives. The aim of this qualification is to give pupils the basic life skills and knowledge to be able to cook for themselves in a healthy and cost effective way sharing these skills with others. Year 10 pupils complete level 1. Year 11 pupils complete level 2.
PE
KS3
In PE we develop the skills and techniques for a variety of games including; badminton, tennis, basketball, cricket, football and hockey. In the summer we develop our athletic skills learning to refine a variety of track and field techniques including; sprinting, long distance running, long jump, javelin and discus. Identifying key muscle groups and understanding the positive impact of a healthy lifestyle is also taught.
BTEC Firsts in Sport Level 2
KS4
BTEC FIRST IN SPORT - LEVEL 2
Pupils will complete 3 pieces of coursework and one online, examination.
PRACTICAL SPORTS PERFORMANCE (coursework)
Understand the rules, regulations and scoring systems for selected sports
Practically demonstrate skills, techniques and tactics in selected sports
Be able to review sports performance
THE SPORTS PERFORMER IN ACTION (coursework)
Know about the short-term responses and long-term adaptations of the body systems to exercise
Know about the different energy systems used during sports performance
LEADING SPORTS ACTIVITIES (coursework)
Know the attributes associated with successful sports leadership
Undertake the planning and leading of sports activities
Review the planning and leading of sports activities
FITNESS FOR SPORT AND EXERCISE (online examination)
Know about the components of fitness and the principles of training
Explore different fitness training methods
Investigate fitness testing to determine fitness levels
PE Short Course
KS4 - GCSE
THEORY TOPICS COVERED IN PREPARATION FOR THE EXAMINATION (1 & 1/2 HOUR EXTERNAL PAPER):
The structure and functions of the musculo-skeletal system
The structure and functions of the cardio-respiratory system
Anaerobic and Aerobic exercise
The short and long term effects of exercise
Lever systems, examples of their use in activity and the mechanical advantage they provide in movement
Planes of axes of movement
Physical, emotional and social health, fitness and well-being
The consequences of a sedentary lifestyle
Energy use, diet, nutrition and hydration
Use of data
PRACTICAL PERFORMANCE:
Students will be required to perform in 2 different physical activities. They will be required to demonstrate their skills in isolation and also within a competitive situation. Each student must do one team and one individual activity.
Sports Leader Level 1
KS3/4
The Level 1 Award in Sports Leadership provides the ideal starting point for learners aged 13 years and over who wish to develop their leadership skills, whilst under the direct supervision of their Tutor/Assessor or other suitably qualified adult.
The syllabus is designed to develop generic leadership skills that can be applied to a variety of sports and/or recreational situations as well as contributing to the personal development of the learner.
The Level 1 Award in Sports Leadership is a practical qualification in which learners must demonstrate their ability to lead others in simple sport/activity.
Employability Skills
KS4
City and Guilds Employability All pupils are entered for a Level 2 City and Guilds Employability certificate.
As part of this qualification; pupils prepare a CV, complete an application form, carry out work experience, visit local colleges and do a range of work-related activities that will prepare them for their next steps after KS4.
BTEC Enterprise Skills - Level 2 Award
KS4
This is a portfolio based course, where pupils research the mind-set and skills of what makes a successful entrepreneur. The pupils compete one unit of work; The Entrepreneurial Mindset. This unit focuses on the attributes of successful entrepreneurs, and learners are encouraged to consider these attributes in terms of their own development. The unit focuses on the ability and capacity all learners have to develop into successful entrepreneurs.
Prince's Trust
KS4 - City & Guilds Level 1 Award/Certificate
Prince's Trust Achieve Award is personal development course that provides a unique offering for pupils; a practical approach to learning which supports young people to fulfil their potential
The Achieve programme provides an opportunity for pupils to try out new activities, boost their confidence and gain
A recognised qualification.
As part of the programme, pupils will explore the following:
Personal and social development: By working in small groups, pupils are able to meet new people and make new friends
Life skills: Through fun and interactive sessions, pupils can learn how to manage money, be healthy and stay safe
Active citizenship: Pupils work as part of a team to make a difference to your local community
Preparation for work: Create a tip-top CV, practice for future interviews and explore your skills and talents
https://www.princes-trust.org.uk/help-for-young-people/unlock-your-potential/explore-your-potential
Teamwork and Personal Development
KS4
Personal Development
The course comes under the Employability qualification, and covers all aspects of Personal Health and Social Education, to support students understanding of the world around them. They will explore the risks and issues they, and others may face. Students will cover areas of:
Personal Safety UNIT 410 (3 Credits)
• To identify what the risks are in social situations and how to avoid such risks looking at our own 'Personal Safety'
• Discuss and demonstrate understanding of the risks to young people associate with sexual activity, and how to avoid these risks
• Identify the signs of grooming, how to avoid it and the support available
• Understand and identify the signs of Radicalisation and the support available.
• Understand and identify the signs of Extremism and the support available.
• Identify ways to minimise risks to different groups (2.1) such as (Children, young adults, older people, vulnerable adults) through discussion
• State the risks involved when using the internet, especially when using social media (Facebook, Twitter, YouTube, chat rooms, forums, dating sites) (1.5) and the support available (3.1)
• State the risks involved when using the internet (1.6) and identify ways to keep identity & personal information safe (2.3) through examining key ideas (GDPR)
Crime and Punishment in society UNIT 445 (3 Credits)
• To identify why people might offend and the effects on both the offender and the victim
• Identify support to offenders and victims of crime
• Understand the history and role of the police force in Britain and both the rights of the police and the suspect
• To explore the Judicial system and the difference between Magistrate and Crown court
• To understand the term Democracy and how it works in today's society; how it affects young people
(Alcohol Awareness Unit 442 – 3 credits)
• To understand the risks associated with alcohol, be aware of symptoms of alcoholic poisoning and the support available.
(Drug Awareness Unit 444 – 3 credits)
• To understand the different types of drugs in society; identify the risks associated with the use of drugs, and how to avoid such risks.
Duke of Edinburgh Award
KS4
The Duke of Edinburgh Award is designed to stretch and challenge pupils in a variety of areas, the award is run as an extra curricular activity and with assistance from adult Leaders, participants select and set objectives in each of the following areas:
Volunteering: undertaking service to individuals or the community.
Physical: improving in an area of sport, dance or fitness activities.
Skills: developing practical and social skills and personal interests.
Expedition: planning, training for, and completion of an adventurous journey
Pupils can achieve sectional certificates as well as a completed award certificate depending on the amount of work they complete.
First Aid
KS4
Our First Aid course is designed to develop the first aid knowledge and skills of learners who are required to provide emergency first aid to employees injured or taken ill at work in line with the Health and Safety (First Aid) Regulations 1981. The qualification gives learners the opportunity to: Demonstrate competence in emergency first aid at work (treatment of adults only), have existing skills recognised, achieve a nationally-recognised Level 2 qualification, achieve a licence to practise and develop their own personal growth and engagement in learning.
Young Health Champions - YHC
KS3 & KS4
The Level 2 Award for Young Health Champions (YHC) is a qualification mapped to a number of frameworks in both education and employment, in order to improve both the learning experience and the future opportunities for those taking part.
Benefits for the pupils:
• Young people are more likely to listen and approach peers for information
• Understand the benefits of a healthy lifestyle
• Learn the skills to make healthier choices
• Develop skills for the workplace
• Increased knowledge of the risks of unhealthy behaviours
• Linked to the key local and national support services
• CV development (for YHCs)
Topics covered:
KS3:
Unit 4: Understanding alcohol misuse
Unit 1: Principle of health improvement
Unit 5: Encouraging physical activity
KS4:
To achieve the qualification, learners must pass four of the units: the 3 mandatory ones + one optional. It is at level 2 which means it is an equivalent level to GCSE grade A-C.
Unit 1: Principles of health improvement
Unit 2: Research health improvement
Unit 3: Deliver a health improvement message
Unit 4: Understanding alcohol misuse
BTEC Level 2 Award in Working Skills
Aims and Intent of Working Skills

This subject offers both an insight into what it means to be entrepreneurial and what skills and knowledge are needed to be successful in business. The second unit primarily focuses on interviewing formats and skills to support students in understanding what is required of them when applying for a job and preparing for the associated interview.

This course is portfolio based therefore, there are no exams.
It has a pass/fail end result.
Helpful Links:
Peter Jones - How I Made My Millions
Buzz Animals - Careers Quiz
16 Personalities Quiz
GCSE Bitesize Business Studies